La coutellerie Berthier, spécialiste du beau couteau

In 2009, Mister Charbonnel received the Knight medal of the Order of National Merit.
A more than 190 years History...
Berthier's cutlery, was established in 1820 by Alphonse Berthier, himself a cutler's son. Since then, the firm has always been run by the same family and is presently run by Didier Charbonnel, great grandson of the founder. Didier makes a point in respecting the family tradition together with a will of opening it up to innovation.
Alphonse Berthier in the 1860's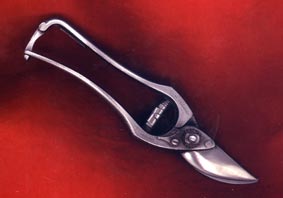 The first "Rhodanien" clippers
A walk through History...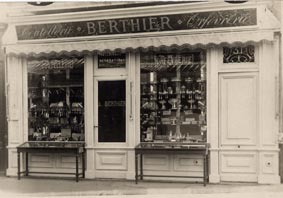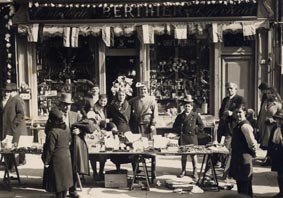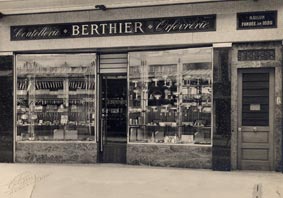 The shop from 1934 to today
Berthier's cutlery Today...
This leads Berthier's Cutlery to support creation while keeping a know-how coming from past generations. Berthier's Cutlery manufactures – sometimes with famous art cutlers – unique items, handmade or industrial collections.
Berthier's fame is based on its creative capacity, on its drastic quality requirements, and on its will to answer the demands of the real cutlery lovers.


Berthier's Cutlery distributes French trademarks and imports special items. It is also well known for its creative spirit, for the perfect restoration of ancient knives, and for the way it welcomes the novice as well as the expert collector.
By having chosen to enter the web community, Berthier's Cutlery wants to remain true to its image and hopes to thus have nice meetings, nice projects ending up in beautiful knives.
Besides its list, Berthier's Cutlery offers the know-how of its workshop
- for any survey and realization of your project (manufacture of unique item, of limited and mass production),
- for any restoring or repairing (chromium-plating of the blades, silvering),
- for any personalization (engraving),
- for any maintenance (sharpening).
Do not hesitate to contact Didier Charbonnel
The shop, 33 avenue Victor Hugo, 26000 Valence -FRANCE is open from Tuesday to Saturday from 9:30 to 12:00 and from 14:00 to 19:00.
Didier, Danielle, Nadine and Sébastien are looking forward to meeting you.
Identification
Company name
Maison Berthier
Brands
Coutellerie Berthier
Legal status
S.A.R.L
Manager last name
Charbonnel
Manager first name
Didier
Head office
33 avenue Victor Hugo
Zip code
26000
City
Valence
Country
France
Phone
04 75 44 28 50
E-mail
[email protected]
Web site
couteaux-berthier.com
Opening hours
9h00-12h00 et 14h00-19h00
Intracommunity VAT No
FR77435880224
Siret No
43588022400017
APE/NAF code
524J
Num CNIL
1240540
Publication director
Charbonnel Didier
Site host

New Oxatis CMA-CGM

Boulevard Jacques Saadé 4, quai d'Arenc

13235 Marseille cedex 02

Marseille